HOME
I am one of the
artisans featured
in the Arizona
Fall 2013 Issue of
Luxe Interiors +
Design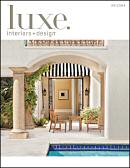 Click on the
magazine cover
to read.


Wayne Hausknecht has been making fine custom doors and furniture in Tucson, Arizona since 1981.
June 1, 2019
I recently sold the restored adobe building that was my shop, put all my tools in storage and after 38 years plan to take a well deserved sabbatical while I design and build a new studio.
September 28, 2021
My sabbatical has evolved into retirement.
Be safe everyone.

"...this master craftsman creates sculpture on hinges; artwork that opens and closes"
Elan Head - Phoenix Magazine

Dedication of the new St. John's United Methodist Church Entry Doors
Click on photo below to see more photos